Homepage
Main content starts here, tab to start navigating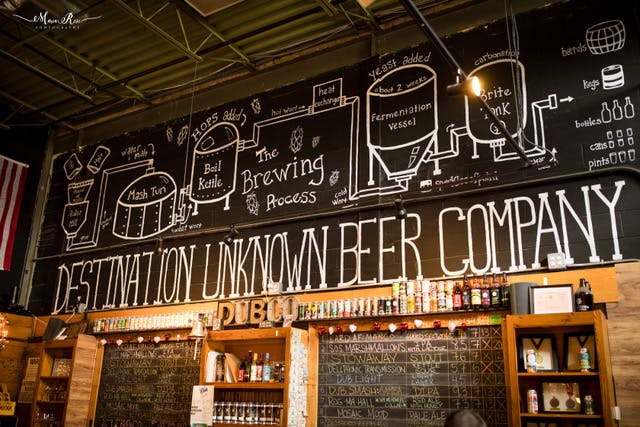 A note for deliveries:
Home deliveries happen on Tuesdays and Fridays and must be placed by 11am the day of delivery. Orders will arrive by 7pm on the day they are scheduled (regardless of time selected)
When visiting our brewery please keep in mind for the time being:
We have limited indoor and outdoor seating
All food and beer must be consumed while seated
Seating is on a first come, first serve basis
Please be considerate of others and don't linger to allow for other people to enjoy the space
Masks and social distancing protocols will be in effect. Please wear a mask any time you are not seated - moving around, to order, using the restroom, etc
Sanitizer is provided, wash your hands whenever possible
If you fail to follow the guidelines you will be asked to leave


FAQs:
Do you allow dogs? We do! See you and your pup soon!
Do you allow kids? Yes, DUBCO is a family-friendly environment. We do ask that they stay home during our larger scale events though (Annual Pina Colada Pig Roast, Anniversary Parties, etc)
Do you allow outside food? Yes, you are free to bring in food or have it delivered but we do have food trucks often and encourage you to order from them when they are here. The best way to find out who is serving food is by checking our recent social media posts- we'll give you the weekend lineup there!
Do you fill growlers? We do not but we package nearly all of our beers in cans. If it is not in cans, you can purchase a 32 oz crowler which we will fill to order.
Where is my beer delivery? The delivery and shipments page states that all beer ordered for home delivery will be received by 7pm on the day it is scheduled, regardless of window selected. This has to do with the web development side of the delivery platform and unfortunately we are unable to change it. Any orders with a delivery fee of $20 are coming to you through UPS, please allow time for shipping.
Can I purchase a keg for my home? This depends heavily on what we have in stock but the short answer is yes! Reach out to our sales manager Erin through Sales@dubcony.com and she'll give you the details.
How do I get DUBCO products into my bar, restauarant, or beer distributor? Our sales manager Erin will be happy to open an account for you! Email her at Sales@dubcony.com and she'll get the necessary info from you.
Order Online
Click below to place an order for pickup, local delivery, or shipping in NYS!
Order Now